Wedding Services
We love to help couples with their weddings. We started by helping couples prepare for their first dance and along the way were asked to perform more and more functions. We now offer Wedding DJ, Emcee and Officiant services as well. We do offer discounts if you book us for multiple roles, and it greatly simplifies the planning stages when you reduce the number of vendors you need to communicate with!
Email us at edge@edgemovementarts.com or call us at (503) 567-9961 today to get us on your wedding team!
Dance Lessons
Make it the most memorable part of your most memorable day!
What makes your first dance important?
Your first dance as a married couple reveals a lot about your relationship. In the simple way you interact on the dance floor, you expose parts of how you work as a couple. When you take that first step together, and dance for the first time in your new commitment, we get a peek at what makes the two of you amazing.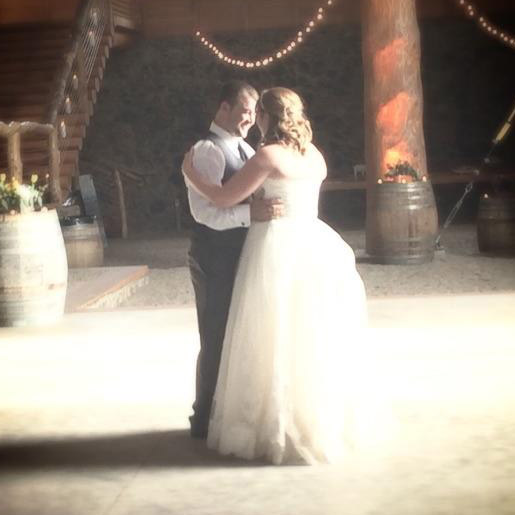 Basic Wedding Dance Packages
With our Basic Wedding Dance Packages, we will prepare you to dance to your chosen song. We'll teach you the basic moves so you can dance to the music and put in some fun variety beyond a simple sway. We'll also teach you how to dip your partner and if you want to, we'll show you a simple lift you can do as well (your friends and family will love it if there is a lift!).
Traditional and Same Sex couples are welcome.
Pricing
Lessons are 45 minutes long and are held at either Dance Fit Oregon in Beaverton, or Parkrose Dance Avenue in East Portland. If you'd like us to come to you we are more than happy to travel.
1 lesson/per lesson $75
5 lesson package $365
10 lesson package $700
Beautiful gift cards are also available!
SHINE! Wedding Package
When you're ready to step up your dance game and really show off what you've got, this is the answer for you. These packages are perfect for couples who at least one member of the couple has some dance training in their background (ballet, modern, tap, ballroom, latin, salsa, etc). We will choreograph the dance exactly to your song and turn your first dance into your first work of art. Be prepared to be the next YouTube wedding dance sensation!*
Traditional and Same Sex couples are welcome.
* YouTube stardom is not guarenteed...
Pricing
Lessons are 45 minutes long and are held at either Dance Fit Oregon in Beaverton, or Parkrose Dance Avenue in East Portland. If you'd like us to come to you we are more than happy to travel.
1 lesson/per lesson $85
5 lesson package $415
10 lesson package $800
Beautiful gift cards are also available!
Wedding DJ
Every party needs someone to get it all started!
The DJ is the life of the party
The most important job of your DJ is to read the room, and play music that helps guide the celebration. We understand that every couple is different, and we will sit down with you to determine what kind of music you want, and how the day will proceed. Music for dinner should lead nicely into the major events, the first dance, cake cutting, bouquet toss, etc. When it's finally time to get down and celebrate, you're DJ is the one responsible to get your guests out of their seats and moving!
Optional Dance Lessons Offered
Do you think your guests need a little extra encouragement to dance? We can help with that! We can teach a seemingly impromptu dance lesson so your guests have a great experience and come away with an extra talent. Salsa, Merenge, Line Dances, or even more traditional dances like a Waltz, we will seamlessly integrate the lesson into your special day.
Pricing
DJ services start at just $125/hour (2 hour minimum) plus travel costs associated with performing the service. Dance lessons and emcee services are provided at no additional cost if desired.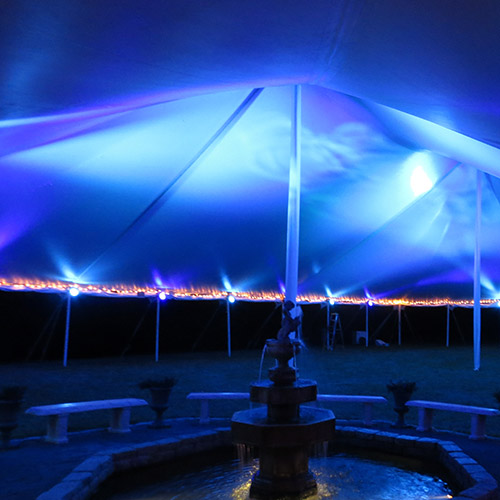 Equipment Available
Every event we DJ we provide our own sound equipment and will arrive early to set it all up and test it. We have 2-4 professional high quality speakers (depending on your venue size), a music catalog of over 24,000 songs and counting, a high quality (Shure SM50) corded microphone with 100 ft of cable for toasts, and we provide an iPhone/Android input for any guests that would like to play a special song.
We also can provide for additional cost:
Monitors and/or TVs for displaying slide shows and videos of the couple (we prefer to set up several smaller screens around the venue to allow your guests to comfortably watch from where they are and not have to crowd around a dim projector).
Up to three high quality wireless mics: 2 handheld and one clip on style (great for your officiant during your ceremony).
Additional speakers and sound design available for more intricate setups.
Lighting and Atmostspheric Effects - Custom Gobo Designs and Etchings, Mirror Balls, Disco Lights, Colored Par Cans, Fog and Haze Machines, Laser Lights, Confetti Canons, and more are available upon request!
Wedding MC and Officiator Services
For your less then traditional Wedding Services
We will officiate for you!
Both Jess and Chad are ordained ministers and licensed to legally officiate weddings anywhere in the U.S. We are experienced in leading events ranging spiritual and sacred to ecstatic and joyful and anything in between. Regardless of your spiritual views (or lack thereof) we can customize a ceremony as unique your relationship. Our greatest desire to present your love for each other to your friends and family. Every word we speak will be to the end of making your love the center piece of your special day.
Just need a good Emcee?
Reading an audience is a great skill. It's important to know when to make a joke, when to double down on the sacred power, and when the situation is getting a little awkward. We've been working with groups of people from 5 to 1,000 since we were teenagers. We promise to take care of your guests and all the little details so you can simply focus on each other.
Emcee services are available as part of DJing or as a stand alone service.