Chad Brooks, ISTD
Oregon's only internationally certified Latin and Ballroom Dance Instructor through the Imperial Society of Teachers of Dance (London, England) - the most prestigious organization of dance teachers in the World!
Chad has trained students from Newcomer up through Open Professional, including students in 9 World Championship Final events. Many of Chad's students go on to become professional dancers and teachers including:
Two time World Theater Arts Vice Champion, and Rising Star Latin Finalist - Jessica Lindsey
The current Artistic Director for the Utah Ballroom Dance Company - Haley Wayt
Dance With Me Studios (New York, NY) 2015 top female instructor - Alona Torvarnova
Current member of World Champion Formation Team (UVU Ballroom Dance Co) - Angela Ray
Professional Aerial Performer - Courtney Stevens
Two principal instructors for DanceSport Northwest studio - Alexandra Adriano and Norbert Teston
No matter what your dance dream is... Chad can guide you to seizing it!
Jessica Lindsey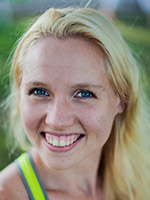 During her 8 years as an amateur competitor, she danced in the Ballroom, Latin, Rhythm, Smooth and Theater Arts styles (both in Pro/Am and Amateur), and achieved 5 World Championship Finals (in Theater Arts, Latin, and Ballroom), including two World Theater Arts Vice Champion titles in 2012 and 2013. Following her 2013 World Pro/Am 10 Dance Final appearance (2nd in Latin, 7th in Standard, 5th overall) she turned Pro and began competing in Open Professional Latin with her coach and husband, Chad Brooks. They have competited from LA to New York, including two appearances in the Rising Star Latin Finals at the New Jersey State Open and the California Open.
As an instructor Jess trains women to find their inner diva and gives them the tools to be elegant and sensual when they dance. She inspires youth to excel and achieve their dreams and reach out to connect with their audiences. When she trains men they discover how to use their power to connect their movement to their partner and turn dance into a truly scintillating conversation.
Whether you're brand new to dance and need a patient and compassionate voice to help you on your journey, or an experienced dancer wanting to shine on the floor... Jess can make your dreams come true!
Intention Based Training
Why do YOU want to dance?
Intention Based Training
Intention Based Training is the product of years of dance instruction theory, combined with real world experience in training dancers to the highest levels of DanceSport. We realize that WHY you are doing something is much more important then WHAT you are doing. We approach every single private and group lesson with the knowledge and skill to teach the person/people... not just a syllabus or lesson plan. When you ask a question, we'll give you an informed and specific answer to guide you in your dancing.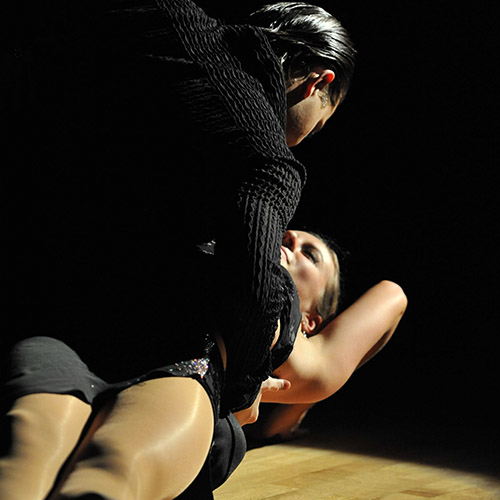 Actions versus Steps
BE CAREFUL OF THE TRAP! Steps and patterns are a necessary part of dancing, but knowing more and more steps - no matter how complicated and flashy they are - does not mean you're a good dancer. The only way of improving your dancing is to improve the habits your body uses to create movement.
We will train you from the beginning to have beautiful form and lines, and will work on developing the strength and flexibility you need so that when you want to do that hot new step... you're not only able to do it, you're able to make it look sexy!
Get Down to the Basics
All through college I'd have Master Classes and Private Lessons with many of the world's best dancers, coaches, and judges (Slavik Kryklyvyy, Karina Smirnoff, Corky & Shirley Ballas, Victor Veyrasset, Heather Smith, Lee & Linda Wakefield, and more). The universal feedback was always this - work on the basics.
We absolutely love doing eye catching, jaw dropping stunts, but we also embrace the fact that no matter how good your tricks are, dance becomes amazing on the back of how well your individual actions are. We focus on Hip Actions, Leg Lines, Arm Styling, Chest & Rib Isolations, Foot & Ankle Articulations and more. When all of your body is in your control, you have absolute freedom to transcend movement and create art!
Pro/Am and Competitor Training
We don't just teach you to dance... We train you to be a dancer!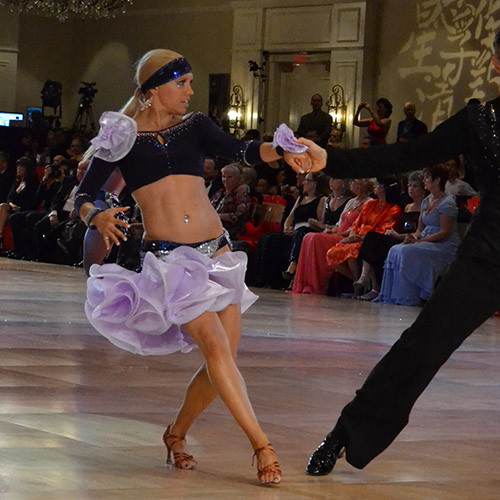 What is Pro/Am
Dancing With the Stars is a reality TV show built on Pro/Am dancing. Across the world there are thousands of students who train, perform and compete with their professional partners. The difference between the show and real life though, is that we're all normal people, and there are not rude judges making strange critiques of your dancing (we know, we are part of the judging community in real life).
You don't have to be a celebrity to dance with a pro!
Amateur Training
If you're one of the lucky ones that has found a partner to compete with, we can absolutely train you to shine on the dance floor. We have a proven record of producing quality dancers at Bronze, Silver, Gold, Novice, Pre-Champ and Championship levels in International Latin and Ballroom as well as American Rhythm and Smooth. We have also trained competitive Salsa dancers and have even worked with the Texas State Champion Pole Dancing Duo. If it's dance you do with a partner, we can help you make it better!
Advice on finding a partner
We know finding the right partner can be tough (Chad went through 13 different partners during his 10 year competitive amateur career). Luckily, we've discovered the secret sauce to what makes a good partnership.
What your partners current level is at the time you begin your partnership is mostly irrelevant. What matters the most is that you have a compatable vision and dream, and that you have a functioning practice schedule. All other details will work themselves out if those two elements are in place.
Performer Training
Reach out and touch somebody!
Let your light shine
There is something that happens when you take the stage. A light fills your body and causes a solitary vibration from deep within your soul. With the skill, the choreography, and the music you harness that power within you and summon the courage to lay your inner self before your audience. You form an instantanious intimacy with everyone there that is the heart of every artistic expression known to humanity. Whether dancing for an audience of a few dozen, or a stadium of thousands, you walk away from the experience humbly glowing with appreciation for the truly divine gift that comes from performing.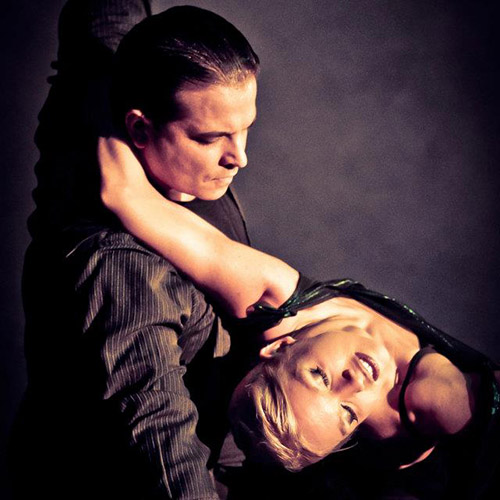 Solo Choreography
We LOVE to choreograph performance routines. Whether it's for your partnership, or you want to perform with one (or both) of us, we will craft an artistic expression that comes from you. Your life experience is what drives the emotional artistic expression from your dancing, and we thrive when we help unlock all that creative energy inside our students. Your solo can be anything you want it to be: fun, silly, loving, passionate, intense, angry, sensual... the only limits are what your heart is willing to show.
What Dances We Teach
From Beginner's to Pro's - this is the stuff we knows
International Latin
Cha Cha • Samba • Rumba
Paso Doble • Jive
International Ballroom
Waltz • Tango • Viennese Waltz
Fox Trot • Quickstep
American Rhythm
Cha Cha • Rumba
East Coast Swing
Bolero • Mambo
American Smooth
Waltz • Tango
Fox Trot • Viennese Waltz
Club Dances
Salsa • Merenge • Bachata
Zouk • Kizomba
Night Club Two Step
West Coast Swing • Argentine Tango
Theater Arts
We are internationally known for our lift work, dips, and tricks
Country Dances
We recommend Jen Miller with Floorplay Dance. She's awesome!